Global Kick-off Concert with Jordan Dodson & Rene Izquierdo
March 3 @ 7:00 pm

-

9:00 pm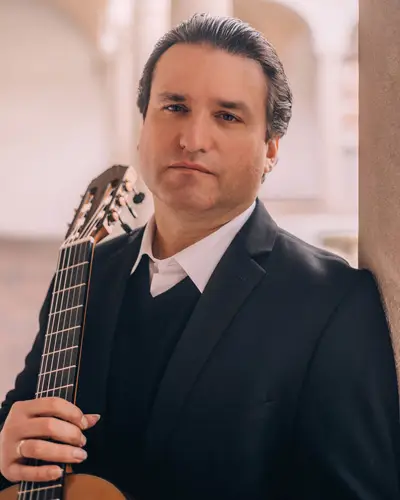 Global Kick off Concert 7:00PM
@ MoCA Westport
Jordan Dodson - contemporary
Rene Izquierdo - classical

Two masters of the guitar perform our 2023 kick off concert in the beautiful gallery of MoCA Westport.
Jordan Dodson,
described by Performance Today as "one of the top young guitarists of his generation," is a musician and educator. A passionate advocate of contemporary music, Dodson has given the premiere of hundreds of new works. In 2013 he was the first guitarist to graduate from the Curtis Institute of Music's new guitar program. In the same year he won Astral Artists' National Auditions and was selected to be Young Artist in Residence on American Public Media.
Rene Izquierdo
Rene has firmly established himself as one of the world's classical guitar virtuosos. Classical Guitar Magazine describes this Cuban born virtuoso's playing as "unforgettable versatility, sensitivity and sublime musicianship".
"His natural and instinctive interpretations are second to none: his virtuoso technique allows him absolute command of the instrument, subtle phrasing, dazzling speed, beautiful tonal control… everything."
TICKETS $40 adults $20 students
or purchase a Festival Pass: Admission to Global Kick Off, Education Day Auditor, Yale Showcase, Children's Pillow Concert, Mentor Mentee Concert